Why?
Taking on an apprentice is a significant but rewarding investment for a business. Losing an apprentice is difficult for all involved. With retention rates of around 50 percent in the automotive industry, there is significant room for improvement. It is well known that a breakdown in communication between apprentices and supervisors is the major contributing factor to apprentice non-completions.
Aim
This research project aimed to find the areas of concern in communication between supervisors and apprentices, and develop strategies to address these.
The research determined two main factors contributing to poor communication among supervisors which result in non-completions of apprentices:
• The long-held assumptions and perceptions about the way things are in the industry• The entrenched belief that the current generation of young people are different from previous generations.For apprentices, the research determined that poor communication is largely attributed to:
• A reduced ability to focus and sustain attention due to constant distraction, with mobile phones being the main distraction• An insufficient level of maturity in their understanding of work and life or behaving as an adult in the workplace, despite being seen as an adult chronologically (aged over 18). This is compounded by poor face-to-face communication skills due to different methods of communication and the influence of technology.

What the project involved
Research included face to face interviews and responses to an online survey involving apprentices, employers, trainers, pre-apprentices and other automotive industry stakeholders. This found the main areas where communication between apprentices and supervisors is problematic.
From the 74 interviews and 320 survey responses six areas of communication breakdown were identified. VACC developed six short scenario videos which showed strategies to improve communications in workshops. These role plays had a clear message for both supervisors and apprentices.
The videos were initially made available for viewing via unlisted YouTube links. In addition, 20 VACC field supervisors and mentors visited over 200 business across a two-month period to discuss the videos, and assist supervisors and apprentices in understanding and implementing the messages from each one.
In addition, four case studies were filmed, showing two large and two small automotive businesses who demonstrate best practice in their mentoring of apprentices. These studies provide ideas to viewers of how they might improve communications in their business.
Mentors and field supervisors sought feedback from the businesses in subsequent visits to see what had changed. Feedback was tracked over a three-month period with VACC members being invited to view the scenario videos and complete a short survey over three occasions – a baseline survey, then Wave 2 and 3 – to measure the campaign's success.

Outcomes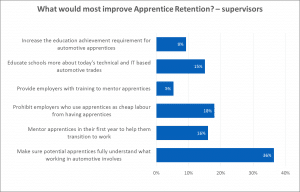 The campaign was a resounding success with a demonstrated improvement of 7 to 13 per cent across the six problematic communication areas. The most significant was an improvement in 'understanding and communicating the need for flexibility within the workplace. Furthermore, feedback demonstrated a 13 per cent improvement in 'communicating the need to understand business requirements and the ability to negotiate a fair and equitable trade off when things come up.'
Comments from the industry
"I will be showing all our employees. Our operations manager needs to be more levelled when delivering these messages so I asked him to take note of how the message is delivered."
"The video highlighted the importance of explaining why we do / don't do certain things in order to make staff understand, rather than just telling."
"I will be showing all our employees the videos. All the messages have value for all employees."
"Introducing short clips as part of the induction might help apprentices to learn how we do things."
"It gave me a few new ways of approaching things."